The Cadenza Music Team and other services offered by Cadenza Music
Who are we and what do we do?
Cadenza Music Tuition was originally founded and created by Daniel Nicholson at the beginning of 2017 in Tooting, London. His own teaching became very popular and a waiting list of over 30 pupils was a common occurrence at the time. Because of personal reasons Daniel knew he would be leaving London to travel back to Cardiff but he was unsure at the time how best to find tuition that could best suit the needs of his pupils at the time. His solution was to take on and mentor someone to take on a block of pupils from his waiting list so that Dan's pupils could seamlessly transition across. Instead, demand for lessons seemed to increase again due to the success of these lessons. Upon leaving London, Dan was managing 4 tutors with 70 pupils in total. As of the Summer of 2019 this number grew to 130 in London and 50 in Cardiff. Whilst still in its infancy, Cadenza Music continues to inspire pupils with alternative approaches, creative teaching methods and memorable events such as pupil concerts.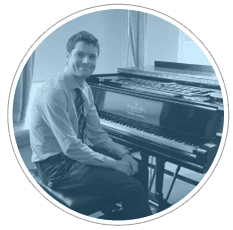 Daniel Nicholson BMus (hons) MMus Founder
Daniel has both a Bachelor's and a Master's degree in Music Performance from the Royal Welsh College of Music and Drama. His passion for playing the piano developed at an early age, when he started Suzuki training with his teacher Hugh Stimpson and Jazz piano with Simon Brown. During his time at music college he studied with internationally acclaimed musicians and twice reached the national finals of the EPTA piano competition. During his Master's studies Daniel also began teaching piano privately and with the Junior Conservatoire at RWCMD.  
Daniel's years of passion for teaching in SW London resulted in him setting up a school of music - Cadenza Music Tuition. He has developed an interest in cross-disciplinary repertoire, which has allowed him to grow as a talented performer, become a successful teacher and write his own book series. Aside from teaching Daniel plays for ballet, accompanies,  provides occasional solo recitals and provides classroom tuition for Cardiff based 'Forte Music'. Daniel conducts group lessons, mocks, and workshops for the Cadenza Music Tutors and organises/hosts the annual Piano Showcase to ensure that his teaching and the services Cadenza Music Can provide make learning an instrument the best experience it can be.  
Benjamin Cook BA MA Associate Tutor
Ben was the first associate piano tutor to join Cadenza Music Tuition. His talents as a pianist and composer were fine tuned during his undergraduate degree in Music Performance at Canterbury Christ Church University, where he specialised in jazz, salsa and ensemble work. Highlights of his work include headlining the Matua Stage with Pete Boss and The Bluehearts at the 2014 Love Supreme Jazz Festival. He received a scholarship in the year 2016 which lead to the completion his Master's degree in Composing for Moving Images at City University, London. He studied under reputable composers like Dr.Miguel Mera, Dr.Aaron Einbond and Dr.Eric Nystrom. Ben is currently a freelance composer at PHMG Worldwide in addition to his private instrumental tuition work.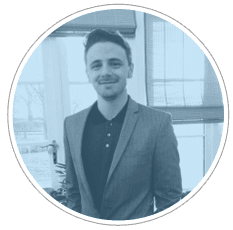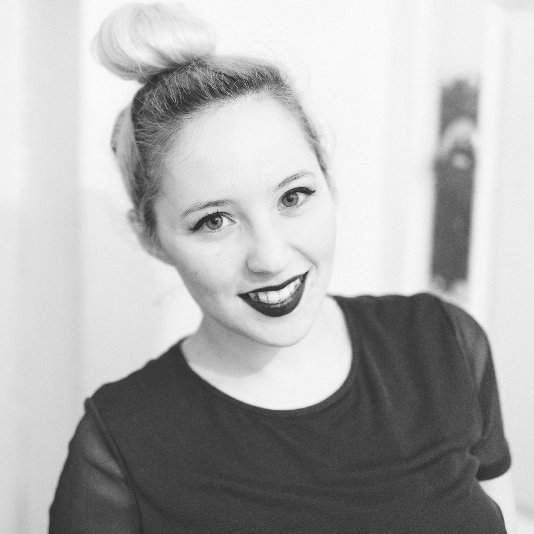 Christina Karpodini BMus MA Associate Tutor
Christina started teaching with Cadenza Music in April 2017. She began her musical studies at 7 years old in Classical piano and vocal ensemble participation. She took her first music Diploma in Music Harmony from the Conservatory of Music in 2011 and a second diploma in Counterpoint Music in 2013. In 2015 she took her Piano Teaching Diploma (equivalent to LRAM) and her Bachelor Degree in Music Studies, pathway Music Technology and Acoustics, with first-class Honors by the National University of Athens. In 2016 she completed her Master Degree in Composition at City University of London in which she explored areas such as Electroacoustic composition. Her enormously varied musical background has given Christina a diverse creative resource from which she draws a fun and engaging teaching style.
Guido Mallardi BMus MMus Associate Tutor
Guido Mallardi started teaching with Cadenza Music in September 2017. He is an Italian pianist, composer and researcher winner of 'On Piano Creativity International Contest'. He studied at the Conservatoire of Fermo and awarded a scholarship in the year 2000. He also studied in the Conservatoire of Milan, Academy of Imola and Mozart Academy in Brussels. He is passionate about improvisation and experimentation and has in depth analytical and practical knowledge of a wide range of genres.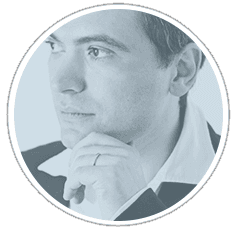 Guido has taught piano, theory, composition, harmony, arranging, counterpoint and improvisation for approximately 15 years. He has developed a method called 'Analogic' and an symbol based approach called Piano Technique Stenography (PTS). His approach is suited to all ages and abilities and his experience has helped him refine his approach so that he is fully competent teaching in any setting or scenario.  
Additionally he has started making public demonstrations of his 'Brainarm' method which gives non-musicians the tools to compose without prior experience. In summary, Guido is a highly versatile, experienced and innovative educator that cares a great deal about the services he provides. 
Cleo Savva BMus (hons) Associate Tutor
Cleo is a multi-instrumentalist and began playing piano at the age of thirteen, Cleo is currently a working musician, teacher and sound engineer; performing with a multitude of instruments including piano, trumpet, percussion and bass. Cleo professionally plays a wide variety of music from samba to salsa and hip hop to alternative dream-pop.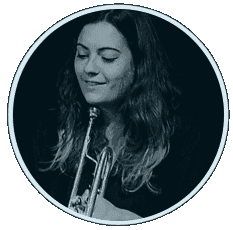 Cleo graduated with a 2.1 (hons) from the City University of London BMus degree course in 2016 and has been teaching privately and in schools since 2013. Cleo has a multitude of experience in working with adults, children and young people with special education needs, physical disabilities, mental health illnesses, challenging behavior and children and young people from underrepresented backgrounds. 
Cleo has an ethos that is There is no 'one size fits all' approach to teaching. Each and every student learns in a different way at a different pace. Cleo teaches in a way that make lessons fun, engaging, builds self-confidence levels and inspire the students to learn and discover.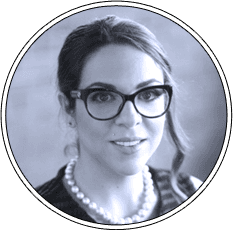 Marilena Theodoraki BMus (hons) Associate Tutor
Marilena began her musical studies from a young age and decided early on that this was something she wanted to pursue. She has dedicated herself to studying, teaching and performing the piano for the majority of her lifetime. 
Marilena has an Undergraduate degree in Historic and Systematic Musicology along with diplomas in Harmony and Counterpoint from the Byzantine Conservatory along and Piano Performance from Hellenic Conservatory of Athens. The wide ranging studies have provided Marilena with a broad understanding of music both as a study and as an art form. 
As a soloist she has performed at various locations across mainland Europe and continues to engage as a pianist in the UK at present. As a teacher Marilena has wide ranging experience across a wide age and ability range. She is friendly, approachable, creative and strives to motivate her pupils and foster a sense of enjoyment at all times.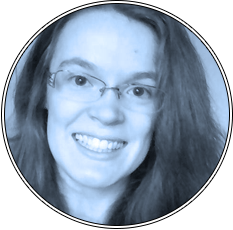 Susanna Hartland BA (hons) Associate Tutor
Susanna is a graduate of the University of Cambridge and has been playing piano since age 5. She has been involved in numerous solo performances along with accompanying instrumentalists, singers and choirs whilst also being actively involved in a band. Additionally to piano, Susanna also plays the bassoon to an advanced level with regular orchestral and chamber group engagements
With eight years of teaching experience Susanna has developed a fondness for educating pupils of all ages and abilities whether it be a new starter, a more experienced player, an adult re-learner, or a pupil wishing to take up an exciting new challenge. Susanna always makes learning fun through use of a variety of methods and techniques whilst also appreciating that knowledge of the written score supplements the practical side of learning. She also has the versatility to cover a wide range of ambitions ranging for teaching improvisation, harmony, succeeding in music exams (such as ABRSM) or learning favourite songs/pieces. 
Susanna believes that passing on knowledge gained from a lifetime in a particular subject is a wonderful privilege for her to have. She treats teaching with a huge amount of respect which reflects positively in her lessons. Ultimately, this passion also gets passed down to her pupils so that they also have the opportunity to enjoy, explore and create music just as she has.
Daniel Crompton BMus (hons) ABRSM Dip Associate Tutor
Born into a musical family, Daniel studied at the Royal Northern
College of Music after being a junior student from age 15. Aged 17 he achieved both Cello and Piano ABRSM Diplomas with distinction. 
During his studies he worked with the Halle Orchestra (Manchester) in their educational outreach programme for 6 months and has subsequently been involved in varying forms of outreach education from Jersey and Cambridge to the Borough of Newham in London.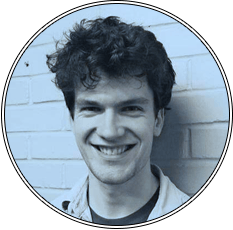 As an accomplished musician Daniel has a broad base of knowledge and experience to draw upon in his teaching. He particularly enjoys the challenges and rewards of educating and aims to be highly engaging as well as supportive to pupils. Daniel is highly adaptable making him a versatile teacher fully competent across a broad range of ages and abilities. Whether  it be learning a repertoire, taking an exam, learning a new style/skill, or understanding/appreciating music, Daniel will ensure pupils learn progressively and enjoy lessons at all times.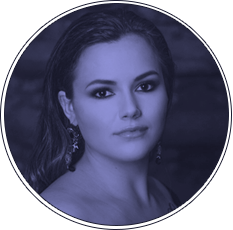 Valerija Iljinaite BA (hons) Associate Tutor
Valerija is a professional singer/musical theatre actress who also has studied piano and violin from a young age. She has a thriving career as a performer and educator spanning various lessons, workshops, masterclasses, coaching and performing which began in her home country of Lithuania and now continues to grow and develop here in the UK. 
Valeria is currently completing two BA Musical Theatre Degrees from the Vilnius University of Applied Sciences and London College of Music. Prior to this she gained three diplomas from Vilnius Juozas Tallat-Kelpa Conservatory and Panevezys Music School. 
Valerija's talents have been recognised by Theatre Director Vilius Malinauskas who says "Valeria is very talented and versatile in music and drama; Valerija always prepares her tasks well and even tries to do more than is required". The Director of EC Lighthouse Supplementary School also commends Vaierija citing that "she is enthusiastic, responsible in preparing her lessons having interesting ideas and trying to implement them".
Pupils with Valerija will enjoy energetic lessons delivered with charisma and fun with creativity drawn from a very diverse background in the performing arts. 
Vasilis Nathanail BMus Associate Tutor
Vasilis is a highly experienced pianist and piano teacher whose career began in his home country of Greece. He studied at the University of Athens where he gained a Bachelor of Music Studies degree along with diplomas in Piano Performance, harmony and counterpoint (equivalent to LRAM).
As a musician Vasilis has extensive performance experience with recitals in Athens, Corfu, Naxos and other locations across Greece. He has also gained scholarships from the International Music Association 'Gina Bachauer' and the Municiple Conservatory of Thessaloniki.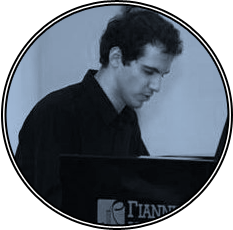 Vasilis' extensive background as a musician, friendly persona and versatility combine when he teaches which provides his pupils with enjoyable and inspirational lessons. This is backed up with years of experience dating back to 2014. Vasilis' main goals as a teacher are to foster a love and appreciation for music whilst setting clear and achievable goals to work towards. He is highly versatile and can teach across all ages ranges and abilities regardless of whether it is working towards an exam or learning your favourite popular tune.
Get in touch with Cadenza Music Tuition for lessons in Cardiff and South West London.
Call now for more information